NEED HELP WITH A DIGITAL PLANNER?
We have tutorial videos for both the Tablet and Google Slides versions of our digital planner! We recommend watching both tutorial videos before purchasing so you can select the best type of planner for your needs!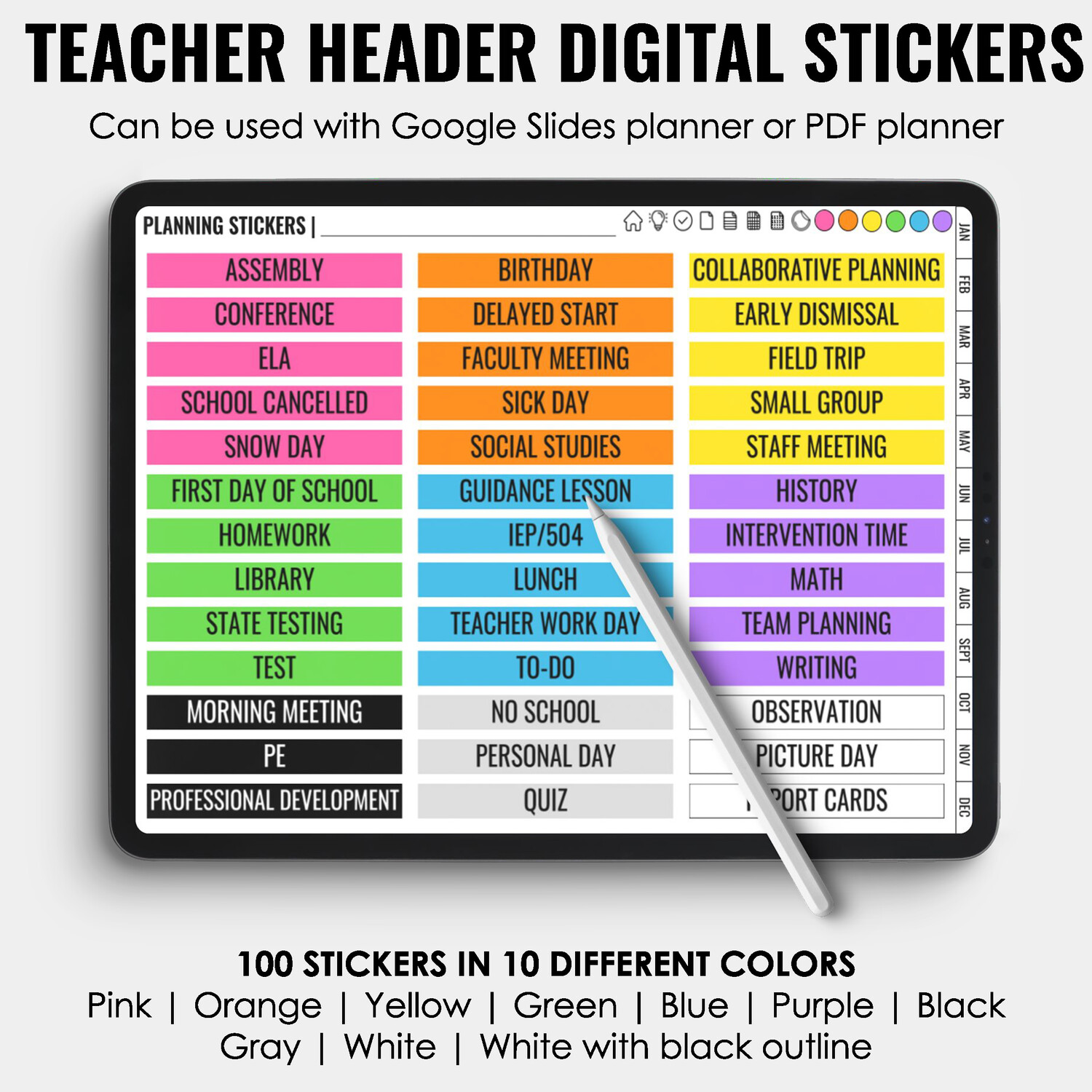 Teacher Header Digital Stickers
SKU 00012
Product Details
These Teacher Header Digital Stickers will help you keep your digital planner even more organized!
IMPORTANT: This item is a DIGITAL DOWNLOAD. You will not receive an item in the mail, but will have access to an instant download.
---
There are 100 stickers in this pack available in 10 different colors! The stickers are a PNG format (no cropping needed) and can be added to a Google Slides digital planner or PDF planner using an annotation app.
COLORS INCLUDED:
Pink
Orange
Yellow
Green
Blue
Purple
Black
Gray
White
White with black outline
STICKERS INCLUDED:
Art
Assembly
Assessment
Beginning of Marking Period
Beginning of Semester
Beginning of Term
Benchmark
Biology
Birthday
Board Meeting
Book Fair
Casual Day
Class Party
Clubs
Collaborative Planning
Committee Meeting
Computer Lab
Computer Science
Conference
Content
Deadline
Delayed Start
Duty
Early Dismissal
Economics
ELA
Emergency Drill
End of Marking Period
End of Semester
End of Term
Environmental Literacy
Faculty Meeting
Family Night
Field Trip
First Day of School
Friday
Furlough
Government
Grades Due
Guidance Lesson
Health
History
Homework
Hurricane Day
IEP/504
Important
In-Service
Induction Meeting
Intervention Time
Jeans Day
Language Arts
Last Day of School
Library
Lunch
Math
Media
Monday
Morning Meeting
Music
New Teacher Trainings
No School
Notes
Observation
Pay Day
PD Day
PE
Personal Day
Phone Meeting
Picture Day
Planning Time
PLC
Professional Development
Progress Reports
PTA Meeting
PTO Meeting
Quiz
Reading
Recess
Reminder
Report Cards
Saturday
School Cancelled
Science
Sick Day
Small Group
Snow Day
Social Science
Social Studies
Staff Meeting
Standardized Testing
Sunday
Teacher Work Day
Team Planning
Test
Thursday
To Do
Tuesday
Wednesday
Writing
WHAT DO WE USE:
iPad Pro - 12.9 inch/ iPad 9.7 inch
Apple Pencil
Goodnotes 5 app
---
PLEASE NOTE: Due to the nature of this product refunds are not offered. If you are unsatisfied for any reason, please contact us and we will be happy to assist you in any way possible.
NEED HELP TROUBLESHOOTING?
How do I download my file? For your privacy and safety, you will receive an email containing the information for your password and account information.
How do I place this on my device? Check out this video here.
Restart your browser or computer/device.
Use a different device to download and save to Google Drive for access to any of your devices.
Make sure there is enough space on your device/computer
If the files are not working, there may be an error during the downloading process. Delete the file and try downloading again.
Save this product for later